Conduit fitting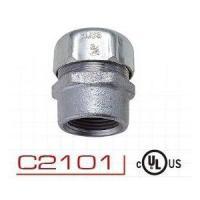 Conduit Fitting
The conduit fitting is purpose-designed for connecting metal conduit and using fitting with a clamp on the outside of the box for both ordinary and tough environments. There are various materials and types of electrical conduit fittings available in Bliss Yih, a well-renowned supplier of fitting and flexible conduit. We provide a wide range of offerings to accommodate your needs for corrosion-resistance and weatherproof.
As a leading manufacturer in Taiwan, Bliss Yih has a reputation for offering quality conduit fittings and flexible tubing. Other than conduit products, we provide our customers with related accessories and connectors as well. With both good management and advanced technology, we have been recognized as one of the reliable manufacturers in the construction materials industry since 1978.
Our type C2101 and C2111 are internal (female) threaded conduit fittings to address your special assembly demands. We also provide custom orders to suit your needs. Interested in our fittings, connectors, conduits or more accessories? See more details at our official website www.blissyih.com.tw/ and send your inquiries to us today! It's our pleasure to serve you and satisfy all your requirements.
Features:
Malleable iron or ductile cast iron, zinc plated.
For liquid-tight flexible steel conduits use.
Another type no. C2111 from 2-1/2〞to 4〞with PT thread are available.
IP 67.
RoHS Compliant
Certificate:
C2101: 3/4〞~ 4〞
UL/cUL listed - file no. E136208
Order Information:
Minimum Order: Negotiable
FOB: Taichung, Taiwan