Liquid Tight Flexible Steel Conduit (EF Type) - Low Smoke Halogen Free (LSHF)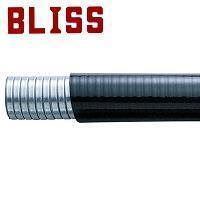 Liquid-tight flexible conduit U2067 low smoke halogen free
Product ID: U2067
★ Flexible metal conduits can be a wide scope of application, all lamps, communications, control, air conditions, electrical room, the fire alarm system, and so on. When we consider the working space, safety, construction facilities, vibration-proof, anti-interference, the integrity of wiring construction and pipeline construction, the use of flexible conduit can solve the problem of pipe construction.
★ For the application of flexible metal conduit, please see Appendix 1:
Flexible Conduit and Connector Application Illustration.
★ More reference information, please see "Appendix".
Features:
Corrosion-resistant, hot-dipped galvanized steel strip wound, RoHS and UL 360 compliant thermoplastic polyurethane (TPU) jacketed
High flexibility and liquid-tight. Low fire hazard, low smoke density and halogen-free.
Movement & vibration absorbing ability, and indefinitely bending ability.
Best performance with the installation of automatic machinery, sophisticated devices and facilities.
Cord packing sizes from 5/16〞 through 1-1/4〞 by square-locked. 1-1/2〞 through 4〞 by interlocked.
Temperature rating: -20°C ~ +80°C.
Standard color: Black.
RoHS & REACH compliant.
IP67.
See more complete detail
Catalog number
Trade size
(inch)
Inner diameter min.
(mm)
Inner diameter max.
(mm)
Outside diameter min.
(mm)
Outside diameter max.
(mm)
Min bending radius
(mm)
Packing length
(m)
U20670200
5/16"
9.5
10.0
14.5
15.0
50.0
50
U20670300
3/8"
12.3
12.8
17.5
18.0
60.0
50
U20670400
1/2"
15.8
16.3
20.8
21.3
80.0
50
U20670600
3/4"
20.7
21.2
26.2
26.7
100.0
30
U20671000
1"
26.2
26.8
32.7
33.4
150.0
20
U20671200
1-1/4"
34.8
35.4
41.4
42.2
180.0
15
U20671400
1-1/2"
40.1
40.6
47.4
48.3
200.0
15
U20672000
2"
51.3
51.9
59.4
60.3
250.0
10
U20672400
2-1/2"
63.0
63.6
72.1
73.0
375.0
8
U20673000
3"
78.0
78.7
87.9
88.9
450.0
8
U20674000
4"
101.6
102.6
113.2
114.3
610.0
5
Order Information:
Minimum Order: Negotiable
OEM/ODM Product, Branded Product, Buyer's Label Offered
FOB: Taichung, Taiwan