Low Smoke Halogen Free Flexible Conduit (Liquid Tight Steel / cULus Listed)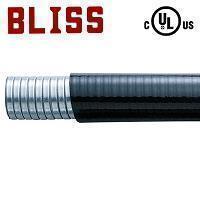 Flexible Conduit
Product ID: U2066
"Public safety is our priority." Because of our mission, BLISS offers TPU jacketed flexible metal conduit for places with public safety concerns. Its low smoke and low toxic emission ability allows more escaping time if fire happens. Low smoke means that smoke will not influent your view when looking for the correct exit and low toxic emission means that it offers you more time to escape before the toxic components caused by fire start to harm human body. Though UL didn't offer tests for low smoke low toxic, we also have our TPU (thermoplastic polyurethane) material tested by Chung Shan Institute of Science and Technology in accordance with ASTM D2863, ASTM E662 and NES-713 for its chemical property. For test results, please see the chart below.
Catalog Download

Features:
Galvanized steel core, thermoplastic polyurethane (TPU) jacketed.
Liquid-tight, high tension, flame retardant, oil and sunlight (Ultraviolet, UV) resistant.
Temperature rating

UL Rating: Dry -40℃~80℃, Wet 60℃, Oil 70℃
CSA Rating: Dry -40℃~75℃, Oil 75℃

Size 3/8" through 1-1/4" have a continuous copper ground wire built into the core. Sizes 1-1/2" through 4" must be installed with a separate ground wire to conform with NEC article 250.
Conform to UL 360 and CSA C22.2 No. 56-13 requirements; file no. E118165.

Flexible Metal Conduit, Liquid-tight
Flexible Metal Conduit, Liquid-tight Certified for Canada

Meet Taiwan Power Company 1134.201-ES-7(REV.2) Spec. of electrical flexible conduit file no. 77-099.
Standard Color: Black.
UL and cULus Listed.
Applicable to ANSI/NFPA 70 National Electrical Code (NEC)

NEC 350
NEC 501.10 (B) / CI DII
NEC 502.10 (A) / CII DI
NEC 502.10 (B) / CII DII
NEC 503.10 (A) / CIII DI
NEC 503.10 (B) / CIII DII
NEC 505.10 (C) / CI ZII
NEC 553.7 (B)
ANSI / NFPA 79
STD for industrial machinery sec. 16 & 17.7

This product should use UL approved terminal connector to conform with ANSI/NEC 350.6, like BLISS connector no.
IP67
RoHS & REACH compliant.
See more complete detail
Catalog number
Trade size
(inch)
Metric designator
Inner diameter min.
(mm)
Inner diameter max.
(mm)
Outside diameter min.
(mm)
Outside diameter max.
(mm)
Min bending radius
(mm)
Packing length
(m)
U20660300
3/8〞
12
12.29
12.80
17.50
18.00
50.50
30
U20660400
1/2〞
16
15.80
16.31
20.80
21.30
82.50
30
U20660600
3/4〞
21
20.83
21.34
26.20
26.70
108.00
30
U20661000
1〞
27
26.44
27.08
32.80
33.40
165.00
20
U20661200
1-1/4〞
35
35.05
35.81
41.40
42.20
203.00
15
U20661400
1-1/2〞
41
40.01
40.64
47.40
48.30
228.50
15
U20662000
2〞
53
51.31
51.94
59.40
60.30
282.50
10
U20662400
2-1/2〞
63
62.99
63.63
72.10
73.00
374.50
8
U20663000
3〞
78
77.98
78.74
87.90
88.90
444.50
8
U20664000
4〞
103
101.60
102.62
113.30
114.30
609.50
5
Certificate:
UL & cUL listed - file no. E118165 conformed to UL 360 and CSA C22.2 No.56-13
Order Information:
Minimum Order: Negotiable
OEM/ODM Product, Branded Product, Buyer's Label Offered
FOB: Taichung, Taiwan