EMI Shielding Conduit Series Introduction
Product ID: Appendix 6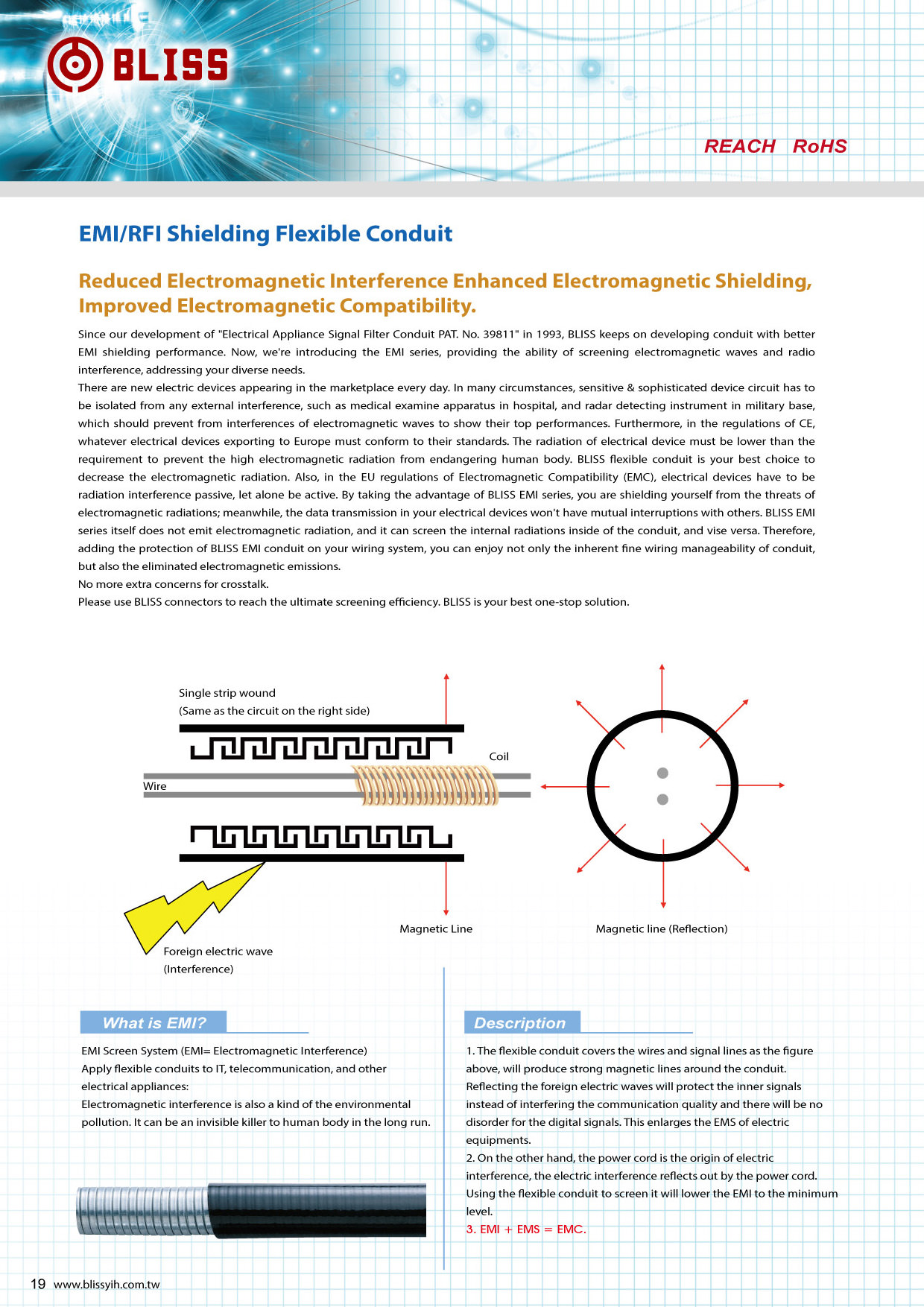 Reduced Electromagnetic Interference, Enhanced Electromagnetic Shielding, Improved Electromagnetic Compatibility.

BLISS Yih Enterprise Co., Ltd. enriches our various flexible conduit portfolio!
Since our development of "Electrical Appliance Signal Filter Conduit PAT. No. 39811" in 1993, BLISS keeps on developing conduit with better EMI shielding performance. Now, we're introducing the EMI series, providing the ability of screening electromagnetic waves and radio interference, addressing your diverse needs.
There are new electric devices appearing in the marketplace everyday. In many circumstances, sensitive & sophisticated device circuit has to be isolated from any external interference, such as medical examine apparatus in hospital, and radar detecting instrument in military base, which should prevent from interferences of electromagnetic waves to show their top performances. Furthermore, in the regulations of CE, whatever electrical
devices exporting to Europe must conform to their standards. The radiation of electrical device must be lower than the requirement to prevent the high electromagnetic radiation from endangering human body. BLISS flexible
conduit is your best choice to decrease the electromagnetic radiation. Also, in the EU regulations of Electromagnetic Compatibility (EMC), the electrical devices have to be radiation interference passive, let alone be active. By taking the advantage of BLISS EMI series, you are shielding yourself from the threats of electromagnetic radiations; meanwhile, the data transmission in your electrical devices won't have mutual interruptions with others. BLISS EMI series itself does not emit electromagnetic radiation, and it can screen the internal radiations inside of the conduit, and vise versa. Therefore, adding the protection of BLISS EMI conduit on your wiring system, you can enjoy not only the inherent fine wiring manageability of conduit, but also the eliminated electromagnetic emissions.
No more extra concerns for crosstalk.
Please use BLISS connectors to reach the ultimate screening efficiency. BLISS is your best one-stop solution.

BLISS EMI SHIELDING SYSTEM EFFICIENCY:
To offer reliable screening efficiency, BLISS requested trusted ERA Technology Ltd. in U.K. for third-party test to
offer you the trustworthy EMI shielding efficiency data. This test is based on IEC 1196-1, with 1/2", 0.5m sample,
and the frequency range is from 100 kHz to 1GHz. Please see the following graphics for the test results. A2066 is
the flexible conduit without special shielding braiding, the shielding efficiency of which is from 21.6 to 51.8 dB.
Among the six samples tested, H7217 which has low fire hazard halogen free thermoplastic elastomer jacket and a layer of copper braiding has the best shielding efficiency from 39.6 to 79.6dB.

For more information, test results, assembly guideline about our EMI shielding series, please see:
"EMI Shielding Series Introduction"
EMI Shielding