UL/cUL Liquid Tight Straight Connector - PG Thread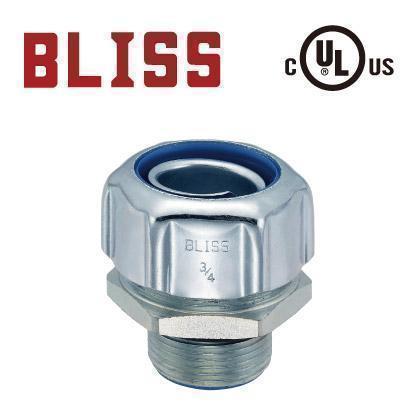 UL/cUL liquid tight straight connector - PG thread: B2161
Product ID: B2161
Type B2161 addresses your needs of both PG thread and straight liquid-tight conduit connector.
Catalog Download

Features:
Steel, malleable iron or ductile cast iron, zinc plated.
Finished with O ring and insulating liner (type no. B21610309 no insulating liner).
For liquid-tight flexible steel conduits use.
According to NEC 350.6, our UL listed connectors collocated with UL listed liquid tight flexible metal conduits are applicable to hazardous (classified) location CID2; CIID1,D2; CIIID1,D2.
No lock nut attached.
IP67.
RoHS, REACH compliant.
See more complete detail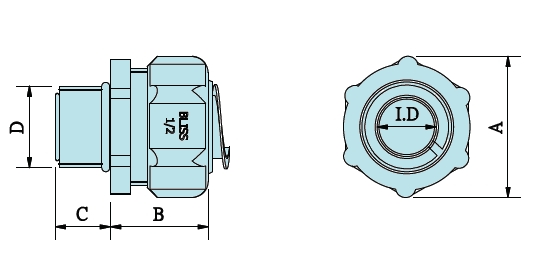 Catalog number
Trade size
(mm)
I.D.
(mm)
A
(mm)
B
(mm)
C
(mm)
D
(mm)
PG Thread
Packing
(pcs)
B21610309
(no insulating liner)
3/8"
11.5
29.0
22.5
8.5
15.2
PG 9
50
B21610311
3/8"
11.5
29.0
22.5
10.5
18.6
PG 11
50
B21610313
3/8"
11.5
29.0
22.5
10.5
20.4
PG 13.5
50
B21610316
3/8"
11.5
29.0
22.5
10.5
22.5
PG 16
50
B21610413
1/2"
14.5
33.5
22.5
14.5
20.4
PG 13.5
50
B21610416
1/2"
14.5
33.5
22.5
14.5
22.5
PG 16
50
B21610621
3/4"
19.5
41.5
28.0
16.0
28.3
PG 21
50
B21611029
1"
25.0
46.0
31.5
19.5
37.0
PG 29
50
B21611236
1-1/4"
33.5
55.5
34.0
20.5
47.0
PG36
25
B21611442
1-1/2"
38.0
63.2
36.5
24.5
54.0
PG42
20
B21612048
2"
49.5
76.0
44.5
27.0
59.3
PG48
10
Certificate:
UL/cUL certification - file no. E136208
Applicable Third Party Standards:
‧UL 514B
‧CSA Standard:C22.2 No.18
‧ANSI/NEMA FB1
‧NMX-J-017-ANCE
‧ANSI/NFPA 70
Order Information:
Minimum Order: Negotiable
FOB: Taichung, Taiwan