UL/cUL Liquid Tight Straight Conduit Connector - Metric Thread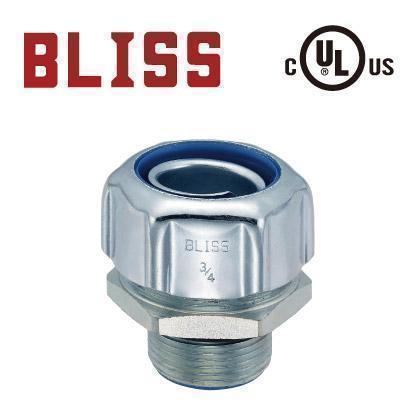 UL/cUL liquid tight straight connector - metric thread: B2141
Product ID: B2141
Bliss Yih is a professional manufacturer of flexible conduit connectors. Our flexible conduit connectors are also UL/cUL listed, and offer best performance with our flexible conduits such as UL listed A2066 and CSA listed A2167. We offer various flexible conduit connectors, such as straight conduit connectors, 45 degree conduit connectors and 90 degree conduit connectors. Also, we are capable of producing conduit connectors with different thread types. Type B2141 is with metric thread. For the thread types, please see Appendix 5: Thread Data.
Catalog Download

Features:
Steel, malleable iron or ductile cast iron, zinc plated.
Finished with O ring and insulating liner (type no. B21410316 no insulation liner).
For liquid-tight flexible steel conduits use.
According to NEC 350.6, our UL listed connectors collocated with UL listed liquid tight flexible metal conduits are applicable to hazardous (classified) location CID2; CIID1,D2; CIIID1,D2.
No lock nut attached.
IP67.
RoHS, REACH compliant.
See more complete detail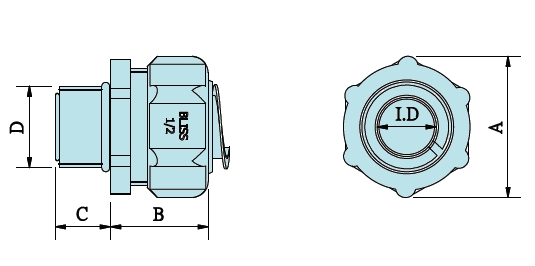 Catalog number
Trade size
(inch)
I.D.
(mm)
A
(mm)
B
(mm)
C
(mm)
D
(mm)
Metric Thread
Packing
(pcs)
B21410316
(no insulating liner)
3/8"
11.5
29.0
22.5
12.5
16.0
M 16 x 1.5
50
B21410320
3/8"
11.5
29.0
22.5
14.5
20.0
M 20 x 1.5
50
B21410420
1/2"
14.5
33.5
22.5
14.5
20.0
M 20 x 1.5
50
B21410625
3/4"
19.5
41.5
28.0
16.0
25.0
M 25 x 1.5
50
B21411032
1"
25.0
46.0
31.5
19.5
32.0
M 32 x 1.5
50
B21411240
1-1/4"
33.5
55.5
34.0
20.5
40.0
M 40 x 1.5
25
B21411450
1-1/2"
38.0
63.2
36.5
24.5
50.0
M 50 x 1.5
20
B21412063
2"
49.5
76.0
44.5
27.0
63.0
M 63 x 1.5
10
Certificate:
UL/cUL certification - file no. E136208
Applicable Third Party Standards:
‧UL 514B
‧CSA Standard:C22.2 No.18
‧ANSI/NEMA FB1
‧NMX-J-017-ANCE
‧ANSI/NFPA 70
Order Information:
Minimum Order: Negotiable
FOB: Taichung, Taiwan