Female Threaded Conduit Fitting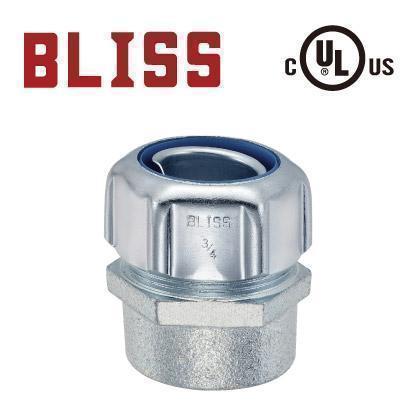 Conduit Fitting
Product ID: C2101, C2111
As a well-established supplier and manufacturer in Taiwan, Bliss Yih Enterprise Co., Ltd. has a reputation for offering quality conduit and connectors products. As for the conduit products, the supplier provides its customers with related items, such as conduit fitting, and flexible tubing. With both good management and advanced technology, the supplier has been recognized as one of the most reliable manufacturers in the construction materials industry since 1978.
This purpose-designed conduit fitting is used to connect conduit. Normally, flexible metal conduit will use fitting with a clamp on the outside of the box. Our type C2101 and C2111 are internal (female) threaded fittings to address your special assembly need! Interested in our products? Please send your inquiry to us today! It's our pleasure to serve you and satisfy all your requirements.
Catalog Download

Specifications:
UL 514B
CSA C22.2 No. 18.3/NMX-J-017-ANCE
ANSI/NEMA FB1
ANSI/NFPA 70 NEC article 350.
Features:
Malleable iron or ductile cast iron, zinc plated.
For liquid-tight flexible steel conduits use.
Another type no. C2111 from 2-1/2〞to 4〞with PT thread are available.
IP 67.
RoHS Compliant
See more complete detail

Catalog number
Trade size
(inch)
I.D.
(mm)
A
(mm)
B
(mm)
C
(mm)
D
(mm)
Thread
Packing
(pcs)
C21010400
1/2〞
14.5
33.5
22.5
12.5
18.6
NPT 1/2
50
C21010600
3/4〞
19.5
41.5
28.0
14.0
24.1
NPT 3/4
50
C21011000
1〞
25.0
46.0
31.5
17.5
30.3
NPT 1
25
C21011200
1-1/4〞
33.5
55.5
34.0
18.0
39.0
NPT 1-1/4
25
C21011400
1-1/2〞
38.0
63.2
36.5
21.5
44.8
NPT 1-1/2
20
C21012000
2〞
49.5
76.0
44.5
24.0
56.7
NPT 2
10
C21012400
2-1/2〞
60.0
99.2
58.5
33.5
67.6
NPT 2-1/2
1
C21112400
2-1/2"
60.0
99.2
58.5
33.5
72.2
PT 2-1/2
1
C21013000
3"
75.0
118.3
60.5
35.0
83.5
NPT 3
1
C21113000
3"
75.0
118.3
60.5
35.0
84.9
PT 3
1
C21014000
4"
97.5
145.3
58.0
38.0
108.9
NPT 4
1
C21114000
4"
97.5
145.3
58.00
38.0
108.9
PT 4
1
Certificate:
C2101: 3/4〞~ 4〞
UL/cUL listed - file no. E136208
Order Information:
Minimum Order: Negotiable
FOB: Taichung, Taiwan