UL/cULus Liquid Tight Straight Conduit Connector - NPT Thread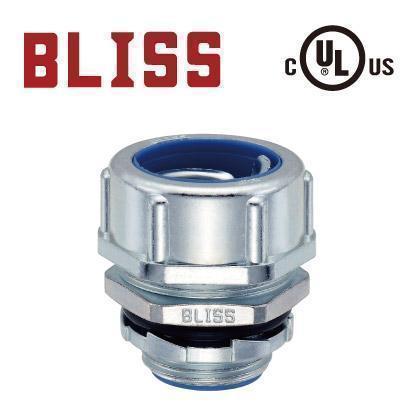 UL/cULus liquid tight straight connector - NPT thread: B2182
Product ID: B2182
Flexible conduit connector manufacturer and supplier Bliss Yih provides UL/cULus listed flexible conduit connectors that offer the most reliable performance. Flexible conduit connectors developed by Bliss Yih come in varieties, such as straight conduit connectors, 45 degree conduit connectors and 90 degree conduit connectors. Bliss Yih also offers customizable flexible conduit connectors with different thread types.
Catalog Download

Features:
Die cast zinc (zinc alloy), zinc plated.
For liquid-tight flexible metal conduit.
NPT thread
Furnished with locknut, O-ring and insulating liner.
UL Listed Trade Size from 3/8" to 2".
Type B2101, made by malleable iron, ductile cast iron or steel, zinc plated.
According to NEC 350.6, LFMC and associated fittings shall be listed. Applicable to hazardous (classified) location Class 1 Division 2; Class 2 Division 1, 2 and Class 3 Division 1,2. UL liquid tight flexible metal conduit type A2066, R2066, S2066.
RoHS & REACH compliant.
See more complete detail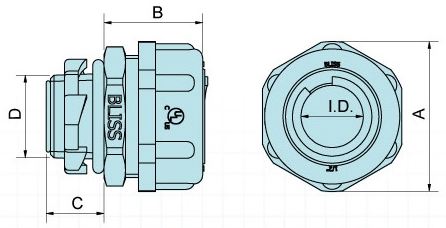 Catalog number
Nominal size
I.D.
(mm)
A
(mm)
B
(mm)
C
(mm)
D
(mm)
Thread
Packing (pcs)
B21820300
3/8"
11.5
29.0
22.0
14.5
21.0
NPT 1/2
100
B21820400
1/2"
14.5
35.0
22.0
14.5
21.0
NPT 1/2
100
B21820600
3/4"
19.5
42.0
27.0
16.0
26.4
NPT 3/4
50
B21821000
1"
25.0
48.5
31.0
19.5
33.3
NPT 1
50
B21821200
1-1/4"
33.5
59.0
34.5
20.5
41.9
NPT 1-1/4
25
B21821400
1-1/2"
38.5
68.0
36.5
24.5
47.8
NPT 1-1/2
20
B21822000
2"
49.5
82.5
43.0
27.0
59.6
NPT 2
10

B21822400

(no approval)

2-1/2"
60.0
93.5
36.0
27.0
72.7
NPT 2-1/2
1

B21823000

(no approval)

3"
75.0
110.0
36.0
27.0
88.6
NPT 3
1

B21824000

(no approval)

4"
97.0
137.0
36.0
27.0
114.0
NPT 4
1
Certificate:
UL/cULus certification - file no. E136208
Applicable Standards:
1. UL 514B
2. CSA Standard: C22.2 No.18.3
3. ANSI/NEMA FB1
4. NMX-J-017-ANCE
5. ANSI/NFPA 70 NEC Artical 350
Order Information:
Minimum Order: Negotiable
FOB: Taichung, Taiwan