Liquid Tight Flexible Steel Conduit (CSA Listed)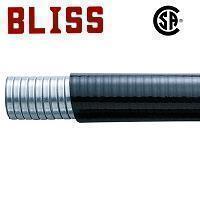 Liquid-tight flexible metal conduit A2167 structure
Product ID: A2167
Product quality is highly valued nowadays. Bliss provides liquidtight flexible conduit with CSA (Canadian Standards Association) listing for Canada market. For machinery and all kinds of application in Canada, CSA approved flexible conduit is your best choice.
Restriction of the use of certain hazardous substance in EEE (RoHS) requires that the hazardous substance should be restricted from July, 2006. Therefore, all the electrical devices and its parts selling to Europe should conform to this requirement.

To protect our environment, BLISS forges ahead in doing what is right. We successfully develop new products, and invite the trusted SGS in Taiwan for the third-party authentication. And the result shows that our products conforms to the RoHS requirements perfectly.
Catalog Download

Features:
Galvanized steel strip wound, RoHS and UL 360 compliant PVC jacket.
Liquid-tight, oil-resistant, flame retardant, and sunlight resistant.
Sizes 3/8"~1-1/4" by square-locked and filled with cord packing. Sizes 1-1/2"~2" by interlocked.
CSA Listed conform to CSA 22.2 No.56, file no.234962
CSA temperature rating: dry -25°C~60°C, oil 60°C
CSA Flame classification: FT1
Extra bonding conductor required.
IP67
Color: Black.
High tensile, best performance on automatic machinery, sophisticated facility installation.
For areas with gas and vapor.
See more complete detail
Catalog number
Trade size
(inch)
Inner diameter min.
(mm)
Inner diameter max.
(mm)
Outside diameter min.
(mm)
Outside diameter max.
(mm)
Min bending radius
(mm)
Packing length
(m)
A21670300
3/8"
12.29
12.80
17.50
18.00
51.0
50
A21670400
1/2"
15.80
16.31
20.80
21.30
76.0
50
A21670600
3/4"
20.83
21.34
26.20
26.70
101.5
30
A21671000
1"
26.44
27.08
32.80
33.40
127.0
30
A21671200
1-1/4"
35.05
35.81
41.40
42.20
159.0
15
A21671400
1-1/2"
40.10
40.64
47.40
48.30
190.5
15
A21672000
2"
51.31
51.94
59.40
60.30
254.0
15
Certificate:
CSA File No. 234962 conformed to CSA C22.2 No.56
Order Information:
Minimum Order: Negotiable
OEM/ODM Product, Branded Product, Buyer's Label Offered
FOB: Taichung, Taiwan