Liquid Tight Flexible SUS 316 Stainless Steel Conduit (EF Type)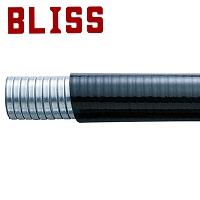 Liquid-tight flexible conduit A2067-S6 structure & cros
Product ID: A2067-S6
★ Flexible metal conduits can be a wide scope of application, all lamps, communications, control, air conditions, electrical room, the fire alarm system, and so on. When we consider the working space, safety, construction facilities, vibration-proof, anti-interference, the integrity of wiring construction and pipeline construction, the use of flexible conduit can solve the problem of pipe construction.
★ For the application of flexible metal conduit, please see Appendix 1:
Flexible Conduit and Connector Application Illustration.
★ More reference information, please see "Appendix".
Catalog Download

Features:
Stainless steel SS#316 core with PVC jacketed. PVC jacket conforms with UL 360 that is flame retardant, oil and sunlight resistant.
High flexibility and liquid-tight.
Movement & vibration absorbing ability, and indefinitely bending ability.
Best performance with the installation of automatic machinery, sophisticated devices and facilities.
Cord packing sizes from 3/8〞 through 1-1/4〞 by square-locked.
Temperature rating: -20°C ~ +70°C.
Also can be covered by the plastic material met LSHF (low smoke halogen free), please contact us for more details.
Standard color: Black.
Meet RoHS & REACH.
IP67
See more complete detail
Catalog number
Trade size
(inch)
Inner diameter min.
(mm)
Inner diameter max.
(mm)
Outside diameter min.
(mm)
Outside diameter max.
(mm)
Min. bending radius
(m)
Packing length
(m)
A206703S6
3/8"
12.3
12.8
17.5
18.0
60
50
A206704S6
1/2"
15.8
16.3
20.8
21.3
80
50
A206706S6
3/4"
20.7
21.2
26.2
26.7
100
30
A206710S6
1"
26.2
26.8
32.7
33.4
150
30
A206712S6
1-1/4"
34.8
35.4
41.4
42.2
180
20
A206714S6
1-1/2"
40.1
40.6
47.4
48.3
200
20
A206720S6
2"
51.3
51.9
59.4
60.3
250
15
Order Information:
Minimum Order: Negotiable
OEM/ODM Product, Branded Product, Buyer's Label Offered
FOB: Taichung, Taiwan