Liquid Tight Flexible Steel Conduit (UL/cULus Listed)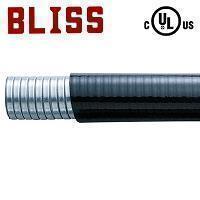 UL Flexible Conduit manufacture in Taiwan
Product ID: A2066
Flexible Metal Conduit from Bliss Yih Enterprise is UL listed, so it guarantees durability and safety which can be used in a wide range of applications, such as lamps, construction, public areas, and so on for your living environment, working place, and many more.
Available in different sizes, this flexible metallic conduit has been approved as a terminal connector, for example, a flexible conduit connector, and applicable to NEC hazardous classified location CI DII.
If you want to know more about Metallic Flexible Conduit, please see Appendix 5:Hazardous (Classified) Location and Bliss Product Performance.
Type A2066 also has the EMI shielding ability, for more information please see "EMI Shielding Series Introduction".
Catalog Download

Features:
Corrosion-resistant, hot-dipped galvanized steel strip, RoHS and UL 360 compliant PVC jacketed.
Liquid-tight, oil-resistant, flame retardant, and sunlight resistant.
Temperature rating: dry 60°C, wet 60°C, oil 60°C conformed to UL 360.
Size 3/8" through 1-1/4" have a continuous copper ground wire built into the core. Sizes 1-1/2" through 4" must be installed with a separate ground wire to conform with NEC article 250.
Conform to UL 360, file no. E118165.
Meet Taiwan Power Company 1134.201-ES-7(REV.2) Spec. of electrical flexible conduit file no. 77-099.
Standard Color: Black.
IP67
REACH & RoHS compliant.
Applicable to ANSI/NFPA 70 (NEC)

NEC 350
NEC 501.10 (B) / CI DII
NEC 502.10 (A) / CII DI
NEC 502.10 (B) / CII DII
NEC 503.10 (A) / CIII DI
NEC 503.10 (B) / CIII DII
NEC 505.10 (C) / CI ZII
NEC 553.7 (B)
ANSI / NFPA 79
STD for industrial machinery sec. 16 & 17.7

This product should use UL approved terminal connector to conform with ANSI/NEC 350.6, like BLISS connector no.
For Circuits lower than 600 volts.
For using as grounding, 3/8"~1/2" for circuits lower than 20A, 3/4"~1-1/4" for circuits lower than 60A, length shall not longer than 1.8m as National Electrical Code (NEC) 250.118
For conveyer, blowers, conditioning facility and machinery tools.
For places where wires need to be away from water, oil, gas or dusts and require flexibility.
For motor leads connection.
According to NEC 350.6, LFMC and associated fittings shall be listed.
See more complete detail
Catalog number
Trade size
(inch)
Inner diameter min.
(mm)
Inner diameter max.
(mm)
Outside diameter min.
(mm)
Outside diameter max.
(mm)
Min bending radius
(mm)
Packing length
(m)
A20660300
3/8〞
12.29
12.80
17.50
18.00
50.5
30
A20660400
1/2〞
15.80
16.31
20.80
21.30
82.5
30
A20660600
3/4〞
20.83
21.34
26.20
26.70
108.0
30
A20661000
1〞
26.44
27.08
32.80
33.40
165.0
20
A20661200
1-1/4〞
35.05
35.81
41.40
42.20
203.0
15
A20661400
1-1/2〞
40.01
40.64
47.40
48.30
228.5
15
A20662000
2〞
51.31
51.94
59.40
60.30
282.5
10
A20662400
2-1/2〞
62.99
63.63
72.10
73.00
374.5
8
A20663000
3〞
77.98
78.74
87.90
88.90
444.5
8
A20664000
4〞
101.60
102.62
113.30
114.30
609.5
5
Certificate:
UL/cULus listed - file no. E118165 conformed to UL 360 and CSA C22.2 No.56
Order Information:
Minimum Order: Negotiable
OEM/ODM Product, Branded Product, Buyer's Label Offered
FOB: Taichung, Taiwan