Flexible Wire Braiding Liquid Tight Conduit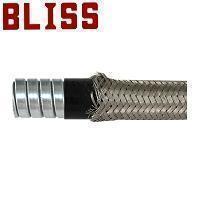 Flexible wire braiding conduit A9533 structure and cross-sec
Product ID: A9533
Enhanced structure offers stonger safety in hazardous area.

Applying BLISS flexible conduit on all constructions or machinery for better cable management and safer working & living environment!
Catalog Download

Features:
A2067 (galvanized steel core with PVC jacket) with #304 stainless steel braiding.
Liquid-tight
IP65
RoHS & REACH compliant
Enhanced safety, prevents spark, welding slag, hot swarf and abrasion.
Braiding can be applied to all BLISS products, by request.
Application:
Hazardous area
Class 2 Division 1, Class 2 Division 2, Class 3 Division 1, Class 3 Divsion 2
Machine tools, motor lead connectors
See more complete detail
Catalog number
Trade size
Inner diameter min.
(mm)
Inner diameter max.
(mm)
Outside diameter min.
(mm)
Outside diameter max.
(mm)
Min bending radius
(mm)
Packing length
(m)
A95330200
5/16"
9.5
10.0
15.5
16.0
65
50
A95330300
3/8"
12.3
12.8
18.5
19.0
75
50
A95330400
1/2"
15.8
16.3
21.8
22.3
95
50
A95330600
3/4"
20.7
21.2
27.2
27.7
115
30
A95331000
1"
26.2
26.8
33.7
34.4
180
20
Order Information:
Minimum Order: Negotiable
FOB: Taichung, Taiwan