Liquid Tight #304 Stainless Steel Conduit (Square - Locked)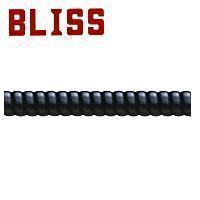 Liquid-tight stainless steel conduit T2017
Product ID: T2017
Catalog Download

Features:
#304 Stainless steel core, RoHS and UL 360 compliant PVC jacketed.
Liquid-tight, oil-resistant, flame retardant, and sunlight resistant.
Temperature rating: -20°C ~ +70°C.
Color: Black, other colors are available by request.
IP65
Square-locked.
Extremely small bending radius, high flexibility.
For the protection of small diameter wire, and fiber optics, such as linear scale and testing equipments.
#316 stainless steel available by request.
RoHS and REACH compliant.
See more complete detail
Catalog number
Trade size
Inner diameter min.
(mm)
Inner diameter max.
(mm)
Outside diameter min.
(mm)
Outside diameter max.
(mm)
Min. Bending Radius (mm)
Packing length
(m)
T20170500
5.0 x 8.5
4.8
5.2
8.3
8.7
25.0
50
T20170600
6.0 x 9.5
5.8
6.2
9.3
9.7
27.5
50
T20170650
6.5 x 10.0
6.3
6.7
9.8
10.2
27.5
50
T20170700
7.0 x 10.5
6.8
7.2
10.3
10.7
32.5
50
T20170750
7.5 x 11.0
7.3
7.7
10.8
11.2
32.5
50
T20170800
8.0 x 11.5
7.8
8.2
11.3
11.7
35.0
50
T20170900
9.0 x 12.5
8.8
9.2
12.3
12.7
35.0
50
Order Information:
Minimum Order: Negotiable
FOB: Taichung, Taiwan