Small Bore Stainless Steel Conduit (Square - Locked)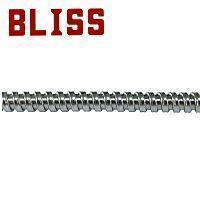 Stainless steel conduit T2013
Product ID: T2013
Stainless steel conduit T2013 are small diameter, which may protect your wire from dust, oil and any outer damages.
Catalog Download

Features:
#304 Stainless steel core, non - liquid-tight.
Square-locked.
Extremely small bending radius, high flexibility.
For the protection of small diameter wire, and fiber optics, such as linear scale and testing equipments.
IP50
RoHS & REACH complaint
#316 stainless steel available by request. Liquid-tight type T2017.
See more complete detail
Catalog number
Nominal size
Inner diameter min.
(mm)
Inner diameter max.
(mm)
Outside diameter min.
(mm)
Outside diameter max.
(mm)
Min. Bending Radius (mm)
Packing length
(m)
T20130350
3.5 x 5.7
3.3
3.7
5.5
5.9
17.5
100
T20130400
4.0 x 6.2
3.8
4.2
6.0
6.4
17.5
100
T20130500
5.0 x 7.2
4.8
5.2
7.0
7.4
17.5
100
T20130600
6.0 x 8.2
5.8
6.2
8.0
8.4
20.0
100
T20130650
6.5 x 8.7
6.3
6.7
8.5
8.9
20.0
100
T20130700
7.0 x 9.2
6.8
7.2
9.0
9.4
20.0
100
T20130750
7.5 x 9.7
7.3
7.7
9.5
9.9
20.0
100
T20130800
8.0 x 10.2
7.8
8.2
10.0
10.4
20.0
100
T20130900
9.0 x 11.2
8.8
9.2
11.0
11.4
22.5
100
Order Information:
Minimum Order: Negotiable
FOB: Taichung, Taiwan