Liquid Tight SUS 304 Stainless Steel Flexible Conduit (Square-locked)(EU Size)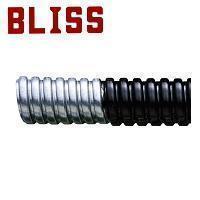 Liquid Tight Stainless Steel Flexible conduit M2017-ST
Product ID: M2017-ST
★Liquid Tight Stainless Steel Flexible conduit (square-locked) is used for the protection of electric wire/cable and other related products. It also can solve the problem of construction of angle that the rigid pipes (such as steel pipes and PVC pipe) can not overcome and then becomes easily in the installation and operation of wires/pipes, as well as flame retardant, vibration-proof, anti-interference, etc.

★Stainless steel flexible conduit (square-locked) applicable to indoor working place where temperature is high. Click here to see our "IEC Classification Key".

★ More reference information, please see "Appendix".
Catalog Download

Features:
#304 stainless steel core, RoHS and UL 360 compliant PVC jacket.
Liquid-tight, oil-resistant, flame retardant, and sunlight resistant, high flexibility.
Temperature rating: -20°C ~ +70°C.
IP65
Color: Black, other colors are available by request.
Square-locked, meets Europe standard dimension.
Stainless steel braiding is available by request.
For mass production equipment and machine tools, or any narrow spaces requiring high flexibliity.
For protection from liquid, oil, gas and dust.
For all kinds of industrial or commercial application.
Corrosion and rust resistant.
RoHS & REACH compliant.
See more complete detail
Catalog number
Trade size
Inner diameter min.
(mm)
Inner diameter max.
(mm)
Outside diameter min.
(mm)
Outside diameter max.
(mm)
Min bending radius
(mm)
Packing length
(m)
M201712ST
M12
9.8
10.2
13.8
14.2
35
50
M201716ST
M16
12.7
13.2
16.7
17.2
35
50
M201720ST
M20
16.7
17.2
21.1
21.6
45
50
M201725ST
M25
20.8
21.3
25.6
26.1
50
50
M201732ST
M32
27.8
28.4
33.6
34.2
75
50
M201740ST
M40
37.4
38.0
44.0
44.6
100
30
M201750ST
M50
48.1
48.7
54.7
55.3
125
20
M201763ST
M63
57.1
57.9
64.1
64.9
150
10
M201775ST
M75
70.0
70.8
77.6
78.4
200
10
Order Information:
Minimum Order: Negotiable
FOB: Taichung, Taiwan