SUS 304 Stainless Steel Flexible Conduit (Square-locked)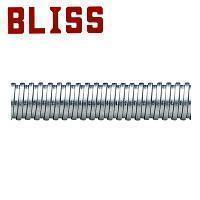 Stainless Steel Flexible conduit A2013
Product ID: A2013
★Stainless Steel Flexible conduit (square-locked) is used for the protection of electric wire/cable and other related products. It also can solve the problem of construction of angle that the rigid pipes (such as steel pipes and PVC pipe) can not overcome and then becomes easily in the installation and operation of wires/pipes, as well as flame retardant, vibration-proof, anti-interference, etc.


★Stainless steel flexible conduit (square-locked) applicable to indoor working place where temperature is high. Click here to see our "IEC Classification Key".

★ More reference information, please see "Appendix".

Features:
#304 stainless steel core, non liquid-tight.
Square-locked.
Small bending radius, high flexibility.
For motor leads connection.
For indoor wiring, such as lighting and OA system wiring.
For office partitioning and sound, data, cable TV, signal transmission.
For areas requiring high flexibility.
RoHS & REACH compliant
IP50
Galvanized steel core type A2012 is available. #316 stainless steel core is available by request.
See more complete detail
Catalog number
Nominal size
(inch)
Inner diameter min.
(mm)
Inner diameter max.
(mm)
Outside diameter min.
(mm)
Outside diameter max.
(mm)
Min bending radius
(mm)
Packing length
(m)
A20130200
5/16"
10.3
10.8
13.3
13.8
25
50
A20130300
3/8"
12.3
12.8
15.6
16.2
33
50
A20130400
1/2"
15.8
16.3
19.0
19.7
38
50
A20130600
3/4"
20.7
21.2
24.4
25.1
45
50
A20131000
1"
26.4
27.0
30.6
31.2
55
30
A20131200
1-1/4"
34.7
35.4
39.5
40.2
62
25
A20131400
1-1/2"
40.1
40.7
44.9
45.5
90
20
A20132000
2"
51.3
51.9
56.1
56.7
110
15
Order Information:
Minimum Order: Negotiable
FOB: Taichung, Taiwan