Flexible Conduit Fitting Ferrule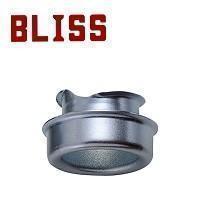 Metal Ferrule: K2196
Product ID: K2196 & K2499 K2599
Flexible Conduit Fitting Ferrule, also known as Steel Ferrule is suitable for various types of flexible conduits, such as flexible metal conduit, liquid tight conduit connector, and many more.
For further information about Conduit Fitting products, kindly contact Bliss Yih Enterprise as a reliable manufacturer and supplier in Taichung, Taiwan.
Catalog Download

Features:
Steel ferrule K2196 is suitable for all kinds of metal flexible conduits.
Nylon ferrule (polyamide 6, nylon 6) K2499 (Black), K2599 (Gray).
For protecting edges of all kinds of metallic flexible conduit.
See more complete detail
Catalog number
(Steel)
Catalog Number
(Black Nylon)
Catalog Number
(Gray Nylon)
Suit for conduit size

I.D.
(mm)

Steel/Nylon

Packing
(pcs)
K21960200
5/16〞
9.0
100
K21960300
K24990300
K25990300
3/8〞
11.5 / 10.5
100
K21960400
K24990400
K25990400
1/2〞
14.5 / 13.5
100
K21960600
K24990600
K25990600
3/4〞
19.5 / 18.5
100
K21961000
1〞
25.0
100
K21961200
1-1/4〞
33.5
100
K21961400
1-1/2〞
38.5
100
K21962000
2〞
49.5
50
K21962400
2-1/2〞
60.0
20
K21963000
3〞
75.0
10
K21964000
4〞
97.0
10
Order Information:
Minimum Order: Negotiable
FOB: Taichung, Taiwan