Bliss Yih Enterprise Co., Ltd.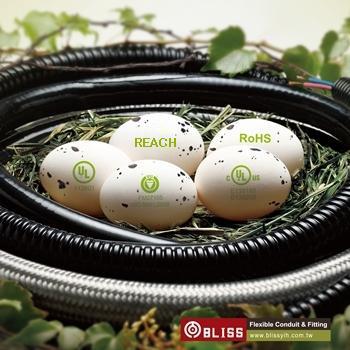 The flexible conduit connector and flexible tubing are offered by Bliss Yih Enterprise, a reliable manufacturer of various fitting and conduits in Taiwan. Our comprehensive product lines from flexible conduit connector, flexible shielding conduit to flexible tubing. Completed with various functions, our high quality connectors and accessories feature waterproof, high tension, low smoke halogen free, and enhanced safety to address different needs in the industry.
Established in 1978, Bliss Yih Enterprise always dedicates to offering high quality flexible conduit connectors, flexible tubing and fittings as well as developing new product series such as braiding conduit, flexible carrier, liquid-tight flexible metallic conduit and more. Our UL and CSA certifications and ISO 9001:2008 further approve our excellent quality management system and R&D capability. Experienced export history offers our customers great service.
"Public safety is our first priority"
Adapting Bliss products can eliminate the possibility of "electrical faults or short circuits that lead to fires."
"Bliss flexible tubing and flexible conduit connector represent safety and economy"
From our product design to its manufacturing, every process complies with standard regulations (i.e. ISO 9001, UL, CSA). Every test is also carefully executed, thus ensuring the maximum safety. Customer's satisfaction is always our priority. We offer the most suitable products, thus guaranteeing the extreme economy. We also offer OEM/ODM services, please feel free to contact us for more information.