Flexible shielding conduit (EMI/RFI Shielding Conduit / Liquid-tight EMI)(Liquid Tight EMI)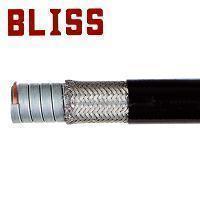 Flexible shielding conduit
Product ID: A2116
Bliss EMI Flexible Shielding Conduit can effectively eliminate the emission of electromagnetic waves from cables that may harm the human body, or influence the accuracy of high-tech instruments.
Established in 1978, Bliss Yih Enterprise Co., Ltd. always dedicate ourselves in offering high quality Flexible shielding conduit and connectors and developing new product series. Flexible shielding conduit developed by Bliss Yih is manufactured under strict standards so as to deliver highly durable and reliable quality.
For more information about EMI Shielding Series, please see "EMI Shielding Series Introduction".
Catalog Download

Features:
A2066 (UL type) + tinned copper braiding over 90% + RoHS and UL 360 compliant PVC jacketed.
Liquid-tight, oil-resistant, flame retardant, and sunlight resistant.
Temperature range: -20°C ~ +70°C
Size 3/8" through 1" have a continuous copper ground wire built into the core.
Standard color: Black.
IP67.
RoHS & REACH compliant
See more complete detail
Catalog number
Trade size
(inch)
Inner diameter min.
(mm)
Inner diameter max.
(mm)
Outside diameter min.
(mm)
Outside diameter max.
(mm)
Min bending radius
(mm)
Packing length
(m)
A21160300
3/8"
12.29
12.80
17.50
18.00
50.50
30
A21160400
1/2"
15.80
16.31
20.80
21.30
82.50
30
A21160600
3/4"
20.83
21.34
26.20
26.70
108.00
30
A21161000
1"
26.44
27.08
32.80
33.40
165.00
20
Order Information:
Minimum Order: Negotiable
FOB: Taichung, Taiwan