Liquid Tight Flexible Steel Conduit (EF Type)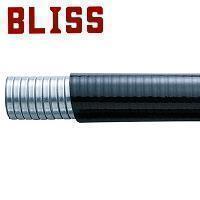 Liquid-tight flexible metal conduit A2067 structure and cros
Product ID: A2067
★ Flexible Conduit or Flexible Metal Conduit (FMCs) purposes are used as cable or pipe flexibility and protection cover. It has a waterproof jacket, which means it is often used in a variety of applications, such as commercial buildings, wiring constructions, electrical, machinery, lamps, communications, control, air conditions, electrical room, the fire alarm system, etc. Because of that, flexible conduit is popular among DIYers.

★ For the application of Liquid Tight Flexible Metal Conduit, please see Appendix 1:
Flexible Conduit and Connector Application Illustration.
★ More reference information, please see "Appendix".
Catalog Download

Features:
Galvanized steel strip wound, RoHS, REACH and UL 360 compliant PVC jacketed.
Liquid-tight, oil-resistant, flame retardant, and sunlight (ultraviolet, UV) resistant.
Sizes 5/16〞~ 1-1/4〞 by square-locked and filled with cord packing. Sizes 1-1/2〞~ 4〞 by interlocked. 2-1/2"~4" same as A2066.
Extra bonding conductor requirement.
#304 or #316 stainless steel core are available by request.
Temperature range: -20°C ~ 70°C, wet 60°C, oil 60°C.
High tensile strength, best performance on automatic machinery, sophisticated facility installation.
For areas with gas and vapor.
Standard color: Black. other colors are available by request.
IP67
See more complete detail
Catalog number
Trade size
(inch)
Inner diameter min.
(mm)
Inner diameter max.
(mm)
Outside diameter min.
(mm)
Outside diameter max.
(mm)
Min bending radius
(mm)
Packing length
(m)
A20670200
5/16"
9.5
10.0
14.5
15.0
50
50
A20670300
3/8"
12.3
12.8
17.5
18.0
60
50
A20670400
1/2"
15.8
16.3
20.8
21.3
80
50
A20670600
3/4"
20.7
21.2
26.2
26.7
100
30
A20671000
1"
26.2
26.8
32.7
33.4
150
20
A20671200
1-1/4"
34.8
35.4
41.4
42.2
180
15
A20671400
1-1/2"
40.1
40.6
47.4
48.3
200
15
A20672000
2"
51.3
51.9
59.4
60.3
250
10
A20662400
2-1/2"
63.0
63.6
72.1
73.0
375
8
A20663000
3"
78.0
78.7
87.9
88.9
450
8
A20664000
4"
101.6
102.6
113.3
114.3
610
5
Order Information:
Minimum Order: Negotiable
OEM/ODM Product, Branded Product, Buyer's Label Offered
FOB: Taichung, Taiwan