Flexible Steel Conduit (UL Listed)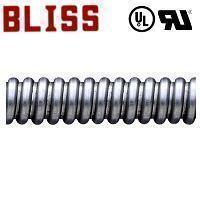 Flexible conduit A2082 (UL Listed)
Product ID: A2082
Bliss flexible conduit A2082 is UL listed, file no. 113601. High quality and good service are your best choice.
Flexible steel conduits can be a wide scope of application, all lamps, communications, control, air conditions, electrical room, the fire alarm system, and so on. When we consider the working space, safety, construction facilities, vibration-proof, anti-interference, the integrity of wiring construction and pipeline construction, the use of flexible conduit can solve the problem of pipe construction.

★ More reference information, please see "Appendix".
Catalog Download

Features:
Galvanized steel core.
High tensile, high impact strength and flexibility.
Meets National Electrical Code 348 and Underwriters Laboratories requirements, file #E113601.
UL Listed trade size: 3/8"~2", UL Recognized trade size: 5/16".
Meets Taiwan power company 1134.201-ES-7 (REV.2) spec. of electrical flexible conduit, file 77-099.
IP50
For indoor or conditioning environment.
For power supply and liqhting, motor and control panel.
For fire alarm system, signal cables, such as surveillance system and optical fiber cable.
For elevator, escalator, lift.
For hazardous area Class 3 Division 1, 2.
Applicable to

ANSI / NFPA 70
NEC 300-22 (c) (b)
NEC 430-145 (b)
NEC 501-4 (b)
NEC 501-16 (b)
NEC 604-6 (a)
NEC 620-21
ANSI / NFPA 79 sec. 16, 16.3.4, 17.7, 17.9

RoHS & REACH complaint.
See more complete detail
Catalog number
Trade size (inch)
Inner diameter min.
(mm)
Inner diameter max.
(mm)
Outside diameter min.
(mm)
Outside diameter max.
(mm)
Min bending radius
(mm)
Packing length
(m)
Note
A20820250
5/16"
7.92
8.32
11.94
12.95
44
30
UL Recognized
A20820300
3/8"
9.52
9.96
14.22
15.49
50
30
UL listed
A20820400
1/2"
15.88
16.38
21.84
23.37
75
30
UL listed
A20820600
3/4"
20.62
21.21
26.54
28.07
100
30
UL listed
A20821000
1"
25.40
26.42
33.02
35.05
125
30
UL listed
A20821200
1-1/4"
31.75
33.02
39.37
41.40
160
20
UL listed
A20821400
1-1/2"
38.10
40.01
46.99
49.53
190
20
UL listed
A20822000
2"
50.80
52.83
59.69
62.23
255
15
UL listed
Certificate:
UL - file no. E113601 conform to UL 1
Order Information:
Minimum Order: Negotiable
FOB: Taichung, Taiwan