Liquid Tight Flexible SUS 304 Stainless Steel Conduit (BS Type)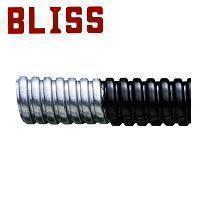 Liquid-tight flexible Stainless Steel conduit A2017
Product ID: A2017-ST
Liquid-tight flexible stainless steel conduit (BS type) is used for the protection of electric wire/cable and other related products. It also can solve the problem of construction of angle that the rigid pipes (such as steel pipes, PVC pipe...) can not overcome and then becomes easily in the installation and operation of wires/pipes, as well as liquid-tight, flame retardant, vibration-proof, anti-interference, etc.
Liquid-tight flexible steel conduit (BS type) applicable to the outdoors, the place with high humidity, oil and gas, and the environment with pH enough to make galvanized steel for rapid oxidation and rusted, etc.

Click here to see our IEC Classification Key.


For more information of application, please see Appendix.
Catalog Download

Features:
#304 stainless steel core.
Square-locked construction, RoHS and UL 360 compliant PVC jacket.
Liquid-tight, oil-resistant, flame retardant, and sunlight resistant.
Temperature rating: -20°C ~ +70°C.
Light, excellent flexibility and liquid-tightness.
For mass production equipment, machine tools.
For places where wires need to be away from water, oil, gas or dusts and require flexibility.
For all kinds of industrial or commercial applications.
Color: black, other colors are available by request.
IP65
RoHS & REACH compliant
See more complete detail
Catalog number
Trade size
(inch)
Inner diameter min.
(mm)
Inner diameter max.
(mm)
Outside diameter min.
(mm)
Outside diameter max.
(mm)
Min bending radius
(mm)
Packing length
(m)
A201702ST
5/16"
10.3
10.8
14.3
14.8
35
50
A201703ST
3/8"
12.3
12.8
16.7
17.2
35
50
A201704ST
1/2"
15.8
16.3
20.2
20.7
45
50
A201706ST
3/4"
20.8
21.3
25.6
26.1
50
50
A201710ST
1"
26.4
27.0
31.6
32.2
75
30
A201712ST
1-1/4"
34.7
35.4
40.7
41.4
100
25
A201714ST
1-1/2"
40.1
40.7
46.4
47.0
125
20
A201720ST
2"
51.3
51.9
58.1
58.7
150
15
Order Information:
Minimum Order: Negotiable
OEM/ODM Product, Branded Product, Buyer's Label Offered
FOB: Taichung, Taiwan