Flexible Metal Conduit (Square-locked)(EU Size)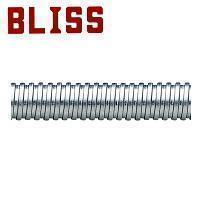 Flexible metal conduit M2012 structure and cross-section
Product ID: M2012
Designed for Europe market and customers used to British dimension (metric designator).

Click here to see our "EU conduit classification and BSI test report".
Catalog Download

Features:
Galvanized steel core, non liquid-tight.
Square-locked, meets Europe standard dimension.
Small bending radius, high flexibility.
Third party testing: BSI test approval under BS EN 61386.
Stainless steel braiding is available by request.
For mass production equipment and machine tools, or any narrow spaces requiring high flexibility.
For all kinds of industrial or commercial application.
IP50
RoHS & REACH compliant
Stainless steel core #304, #316 available by request.
See more complete detail
Catalog number
Trade size
Inner diameter min.
(mm)
Inner diameter max.
(mm)
Outside diameter min.
(mm)
Outside diameter max.
(mm)
Min bending radius
(mm)
Packing length
(m)
M20120212
M12
9.8
10.2
12.8
13.2
25
50
M20120316
M16
12.7
13.2
15.7
16.2
33
50
M20120420
M20
16.7
17.2
20.1
20.6
38
50
M20120625
M25
20.8
21.3
24.6
25.1
45
50
M20121032
M32
27.8
28.4
32.0
32.6
55
50
M20121240
M40
37.4
38.0
42.2
42.8
62
30
M20121450
M50
48.1
48.7
52.9
53.5
110
20
M20122063
M63
57.1
57.9
62.1
62.9
120
10
M20122475
M75
70.0
70.8
75.8
76.6
138
10
M20124100
M100
93.5
94.5
99.7
100.7
150
10
Order Information:
Minimum Order: Negotiable
FOB: Taichung, Taiwan