Rectangular Flexible Conduit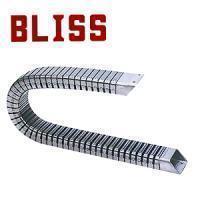 Rectangular flexible conduit
Product ID: CF101
CF101 is square-shaped flexible conduit. Please indicate the correct coupling (flange) style for customization. Please see the attached chart for better understanding of all coupling/flange style options.
Catalog Download

Features:
Material: Stainless steel & PA (nylon) lining.
Fastening: Flanges are welded to both ends of the flexible conduit to insure electricity continuity.
Length:

Fixed at the middle: Total length = stroke / 2 + 4 times bending radius + 50 mm.
Fixed at single side: Total length = stroke + 4 times bending radius + 50mm.

Size selection: To determine interior size, a 30 ~ 40% allowance should be added to the outside diameter of the enclosed cables to prevent binding.
Bending: It's better to choose by 8-10 times of the outside diameter of total enclosed cables for selecting the bending radius.
Security guarantee should be in the limit of 60 ~ 70% of capacities, it will be artificial improper disposal if out of this limitation.
Suggest to install the support holder to extend the life of using.
See more complete detail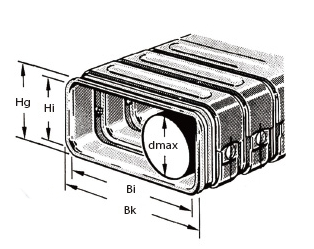 Type
Outside WxH
(mm)
Inside WxH
(mm)
Bending Raduis
(mm)
Max Diameter (dmax)
(mm)
CF101-1
60x36
45x25
70, 100
20
CF101-2
90x53
74x40
100, 150, 200
34
CF101-3
118x67
102x52
100, 150, 200, 250
47
CF101-4
118x92
102x72
150
65
CF101-5
182x92
162x72
150
65
Order Information:
Minimum Order: Negotiable
FOB: Taichung, Taiwan