Flexible Conduit Connector - Threadless Combination Coupling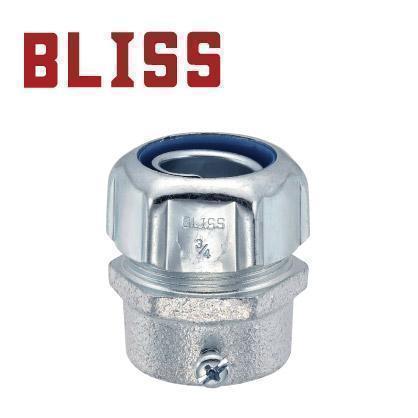 Flexible Conduit Connector E2101
Product ID: E2101
Flexible Conduit Connector type E2101 is thread less and can be used to connect EMT conduits as well as electrical flexible conduits.

Flexible conduit connectors developed by Bliss Yih are manufactured under strict standards to delivery durable, accurate fitting.
Catalog Download

Features:
Malleable iron or ductile cast iron, zinc plated.
For connecting EMT with flexible conduit.
Threadless, furnished with screw.
2-1/2" same as P2101.
Applicable for liquid-tight flexible conduits type
IP67.
RoHS & REACH compliant.
See more complete detail

Catalog number
Trade size
(inch)
I.D.
(mm)
A
(mm)
B
(mm)
C
(mm)
D
(mm)
EMT
CNS 2606-C4060
JIS C8305
Packing (pcs)
E21010400
1/2
14.5
33.5
22.5
12.5
19.6
E19
100
E21010600
3/4
19.5
41.5
28.0
14.0
25.9
E25
50
E21011000
1
25.0
46.0
31.5
17.5
32.3
E31
50
E21011200
1-1/4
33.5
55.5
34.0
18.0
38.6
E39
25
E21011400
1-1/2
38.5
63.2
36.5
21.5
51.3
E51
20
E21012000
2
49.5
76.0
44.5
24.0
64.0
E63
10
Order Information:
Minimum Order: Negotiable
FOB: Taichung, Taiwan